Maryland Stairlift Installer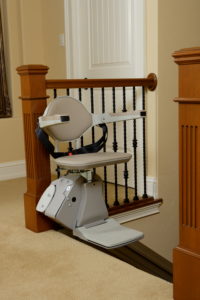 Discount Stairlifts is a locally owned and operated business focused in the sale and installation of stairlifts in Maryland. Sometimes, a stairlift is also referred to as a "chair lift" or a "stair glide". These terms are often used interchangably through out the industry and amongst advertising, etc. In any event, a stairlift is a chair with a motor that rides on a track to enable someone with mobility challenges to safely and easily get up or down the stairs.
Discount Stairlifts features both new and used stairlift chairs. Our new Bruno Stairlifts are packed with the latest greatest technology that affords many premium features for maximum comfort and safety. We also feature used Bruno Stairlifts, as well as many other brands of used stairlifts such as Acorn, Harmar, Ameriglide, etc. Don't worry, when you buy a used lift from Discount Stairlifts, you will get a unit that "appears and functions like new", and it will even have an industry leading warranty – yes, a warranty even on a used stairlift!
Call Discount Stairlifts today for your new or used stairlift in Maryland. We also cover most of Virginia, Washington DC, Delaware, and those Philadelphia and surrounding areas in Pennsylvania.